Top 7 Pooja Unit Designs for your Home
Discover the perfect Pooja unit design for your home with our curated list of the top 7 traditional and contemporary options. From exquisite temple-inspired designs to minimalist wall-mounted units, find the ideal blend of spirituality and style to enhance your sacred space.
1. Mandir or Temple Style
This is a traditional design inspired by Hindu temples. It typically features intricate carvings, a raised platform, and a dome or arch above the deity's idol. It may have shelves or compartments for storing religious items and offerings.
2. Wall-mounted Pooja Unit
This design is suitable for smaller spaces or when you want to save floor space. It consists of a decorative wall panel with shelves or niches to place idols, pictures, and religious items. It can be designed with wood, marble, or other materials.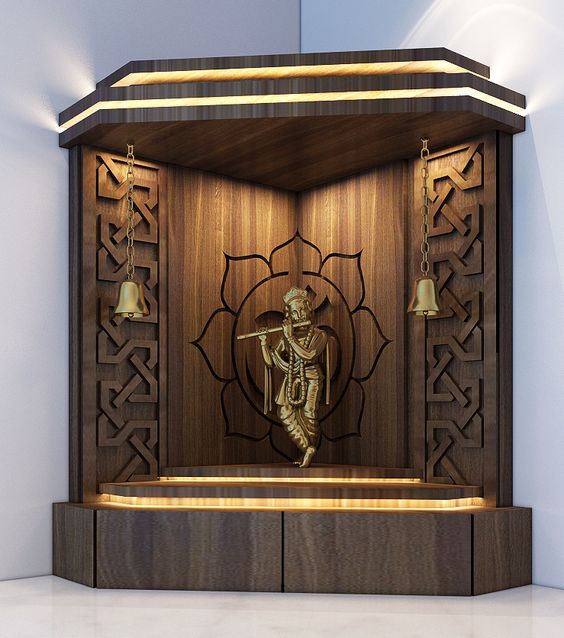 This design utilizes the corner of a room to create a dedicated space for worship. It can be a compact unit with shelves, drawers, or cabinets to accommodate idols, lamps, and other religious items. It may have decorative features like carvings or ornamental doors.
4. Pooja Unit with Storage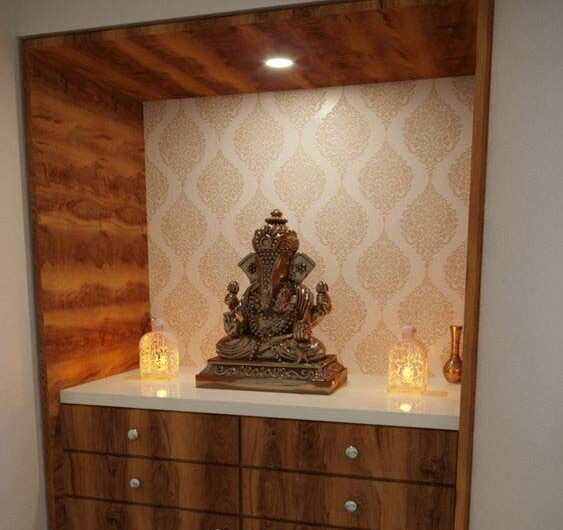 This design incorporates storage cabinets or drawers along with the Pooja unit. It provides ample space to organize and store religious essentials like incense sticks, camphor, prayer books, and other items. The storage can be integrated into the design or kept separate.
This design is simple and minimalist, consisting of open shelves or racks mounted on the wall. It allows for easy display and accessibility of idols and other religious items. It can be combined with decorative elements like hanging bells or lights.
6. Pooja Room with Seating
In larger homes, a dedicated Pooja room with seating arrangements is preferred. It can have a raised platform with cushions or benches around it for comfortable seating during prayers or meditation. The room can be decorated with wall art, paintings, or murals.
7. Contemporary Pooja Unit
For a modern and sleek look, contemporary Pooja units are gaining popularity. They are often designed with clean lines, glass panels, and integrated lighting. These units blend seamlessly with the overall home decor.
Disclaimer: The views expressed in this blog are for informational purposes only. The author and publisher do not endorse or guarantee the accuracy of the information provided. Readers are advised to conduct their own research and seek professional advice before making any real estate investment decisions.